Title
Adrián I. Chávez, Pop Wuj: Poema Mito- Histórico Kí-ché. (Book Cover)
Preview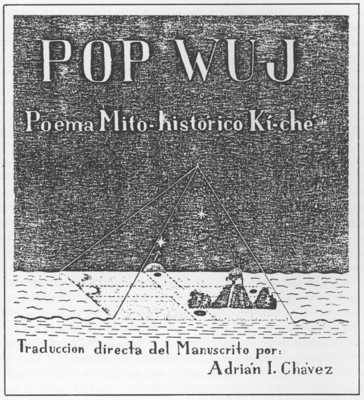 Creation Date
Spring 1978
Description
Adrián I. Chávez' book, Pop Wuj. Chávez originally published Pop Wuj in 1979. It was republished in 2008 with illustrations by Diego Rivera. Pop Wuj is a new interpretation of ancient Quiché mythology, first translated by the Spanish colonist, Father Francisco Jiménez, as the Popol Vuh. In the corresponding article, Chávez argues that his translation is more faithful to the original story because it takes into account the linguistic system of the Quiché people.
Related article: Issue 7, Un Libro Antiquisimo de America, by Adrián Chávez, pp. 83-84.
Link to book's record in WorldCat: (2008) http://bit.ly/popwuj; (1979) http://bit.ly/popwujoriginal. INTI No. 7, Primavera 1978, p. 85.