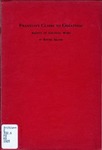 Description
An Address before The Rhode Island Society of Colonial Wars, December 30, 1922 by Harry Lyman Koopman. Issued by the courtesy of Henry Dexter Sharpe, Esquire, in the administration of William Bates Greenough, Governor, 1923.
Koopman argues that in the past religion was closely linked with national identity, but with the founding of the nation – which Benjamin Franklin helped facilitate – such a connection no longer existed or was needed. And that Franklin's greatness came at a unique moment in history and that his lifetime of accomplishments sets him apart from the other founding fathers.
Publisher
Henry Dexter Sharpe, Esq.
Disciplines
History | United States History
Recommended Citation
Koopman, Harry Lyman, "Franklin's Claims to Greatness with Remarks on the Religious Aspects of Patriotism" (1923). Rhode Island History. 5.
https://digitalcommons.providence.edu/ri_history/5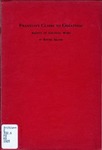 Included in
COinS